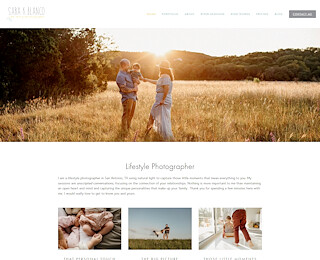 Are you looking for San Antonio photographers who can capture the real you? Contact Sara K. Blanco Photography for all your portrait photography needs. We can also handle everything from maternity and new born to family and couples and even dogs. For inquiries, fill up the contact form on our website.
Selecting from among the many San Antonio based family photographers can be a bit tricky, and it's a process you shouldn't rush. After all, you want pictures that you can proudly display at home or send to friends over the holidays. Here are some tips to keep in mind.
1. Interview several photographers. You want someone who actually listens to your ideas and expectations. A professional photographer will need information in order to compose images that truly tell the story of your family.
2. Ask about style. Do they do photojournalistic images, or is their style more whimsical, romantic, or classical? Tell the photographer what you have in mind and inquire if he or she is experienced in that area.
3. Look at their samples. He best San Antonio photographers have online portfolios that you can check out. Do you like their work?
4. Ask about additional services. Do they provide retouching to remove blemishes? Can they do photograph restoration? Do they offer custom framing? If the photographer does not offer these services, can he or she refer you to a reliable vendor?
5. Communicate. The photographer should have a clear understanding of what you want. Take the time to talk about fees and services involved so that there are no surprises and misunderstandings in the end.
Finally, ask about credentials. The photographer should be a membership of professional associations such as the National Association of Professional Child Photographers, especially if the shoot involves a newborn or very young children.
Talk to Sara K Blanco, one of the leading San Antonio photographers specializing in family, maternity, and newborn portraits. Call 210.884.8969 or leave a message on this website.
San Antonio Photographers
Related Posts
Looking to take a proper family picture? Don't set it in a studio. Take advantage of the outdoors. Sara K. Blanco Photography's San Antonio family photographers is experienced in outdoor shoots and using natural lighting for photos. Visit our website to see some of her work. For inquiries, you may call us at 210.884.8969.
In a blink of an eye, your child will be all grown up. Take advantage of the first few weeks of your baby and have his or her portrait taken. Sara K. Blanco Photography offers excellent services for maternity, family, and new born photography. Sara, our San Antonio newborn photographer has kids of her own and can easily handle photo shoots with babies.
Motherhood is one of the most important stages in a woman's life. Hire a San Antonio maternity photographer to capture you at your most beautiful—while you are carrying your little bundle of joy in your tummy. It will make a great keepsake once your child is grown up. If you need a photographer, please go to Sara K. Blanco Photography's website.
We welcome your comments!